When I begin working with a new client, someone who wants to build a book of business (or a bigger book), the first thing we do is to build a strategy. I've written extensively in the past on the process of developing a strategy for business development. (See, for example, Chapter 3 of The Reluctant Rainmaker and the blog posts How Do You Choose Biz Dev Strategy and What's Your Strategy?) And yet, what every client wants, quite understandably, is a plan of action items that they can do to build the practice. In fact, we talk about a business development plan more than strategy, and it's a BD plan, not strategy, that I urge lawyers to revisit on a regular basis. What gives?
 
A BD plan is only as good as the strategy that underlies it. Without strategy, a plan is just an uncoordinated task list of actions that you think will bring in more business, but the actions don't function together or reinforce one another, nor are they pointed to a specific outcome other than more business.

Succeeding in business development requires strategic planning; creating a plan that flows from your strategy comes next. Strategic planning can be difficult (usually is, if it's done well), and it's easy to slip into developing a task list instead of a strategy because that creates the illusion of being more productive.

So how do you know when you're truly engaging in strategic planning?
I ran across this terrific video from the Harvard Business Review called A Plan Is Not a Strategy. In the video, Roger Martin, former dean of the University of Toronto's Rotman School of Management, distinguishes strategy from routine planning and highlights the fallacy of what we usually call "strategic planning."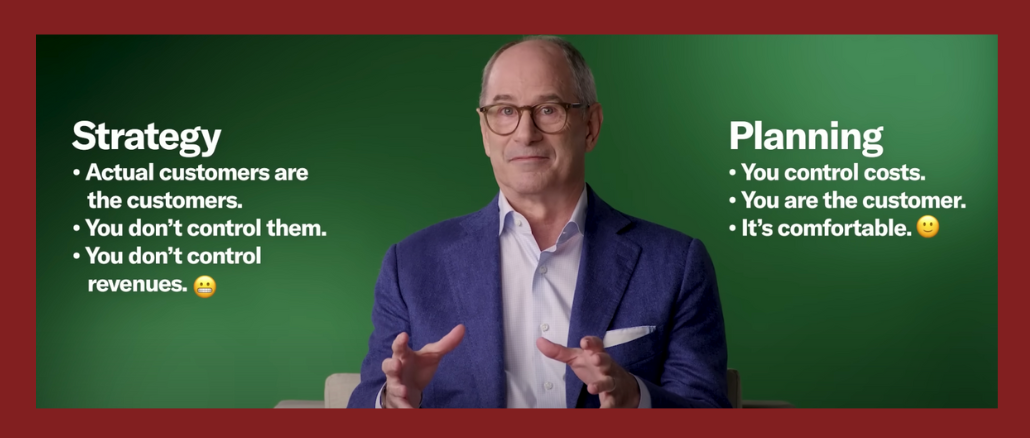 Martin defines strategy as an "integrative set of choices that positions you on a playing field of your choice in a way that you win." (Emphasis added.) A strategy is coherent and doable, but it's also built on a theory about why this is the best playing field for you and why you're better than anyone else on this playing field. That theory can't be proven in advance, so it's a calculated risk that must be tested.
 
A plan, on the other hand, is composed of discrete, concrete action steps that you can complete. The outcome of those actions must be projected, but it is not guaranteed, and unless the individual steps are tied specifically to a strategy (do this to accomplish this aspect of the strategy), the plan lacks an internal coherence. It's a task list that defines how to use the resources at your disposal, including your time and budget.
 
And so it follows that strategic planning is the process of defining a strategy and then building a plan to implement that strategy.
 
An example of strategic planning: Beginning at 4:05 in the video, Martin discusses how, years ago, almost all airline carriers were building plans like one another to grow their market share. More routes, better customer service, steps designed to improve on what was already existing. These carriers had a plan designed to further a long-ago defined strategy.
 
But Southwest was an upstart that defined a new playing field (point-to-point flights, rather than hub-and-spoke, for one example) that would allow it to reach a desired type of customer (the group of fliers who essentially wanted a more convenient mode of travel than Greyhound without dramatically increasing the cost). In other words, Southwest built a strategy, whereas other airlines simply continued to implement their growth plans. Changing the curtains, if you will, as opposed to placing the window in a new location.
 
A key criticism of law firms and lawyers is that they tend to follow one another, building a better version of a fairly uniform concept of how to build a practice. Although the planning is often described as strategic planning, it's usually planning for an old strategy or creating a BD plan that isn't closely tied to any strategy at all. When did you (or your firm) last take on a review and, if necessary, an overhaul of the strategy underlying your business development plans? Do you know what the current strategy is, beyond seeking clients who need X kind of work and can pay Y kind of dollars?
 
One line makes this a must-watch video: "While you're planning, at least one competitor is working on strategy." Query which camp you (or your firm) belongs to and what result that's likely to achieve.
 
Note that I'm not saying you necessarily need to abandon your current strategy and adopt a new one. It may be that you've been through the hard work at least somewhat recently and have a strategy that allows you to distinguish yourself from other lawyers and law firms—to win on the playing field of your choice, to use Martin's words. If that's the case, check your BD plan to be sure that it's designed to meet your strategy.
 
But if you haven't recently revisited your strategy to determine whether it's on point—or if you can't clearly articulate the strategy underlying your BD plan—take this as your sign that it's time to enter a true strategic planning process. Check out the video for a primer on how to develop a strategy that makes sense for you.
/wp-content/uploads/2022/09/Depositphotos_10183931_L.jpeg
1339
2000
Julie Fleming
/wp-content/uploads/2015/09/3179291.png
Julie Fleming
2022-09-14 08:05:25
2022-09-12 13:25:03
On Strategic Planning