Have you ever had the wind knocked out of your business development sails? That can happen when you expect to land some new business and it doesn't happen, when you hit a few closed doors in a row, or even when you lay out your business development plan and feel exhausted just looking at it. Nobody said building a book of business is easy or fast.
Here's what makes it less frustrating: doing business development activity on a consistent basis and tracking what you do and your results. When you act consistently and build a track record to look back on, you'll find it easier to keep on keeping on.
Consistency
I've written extensively about the need for consistency. In talking with several clients recently who were slammed with billable work and leaving business development work on the back burner as a result, I suggested this:
Determine, with all the clear-eyed realism you can muster, how much time you can make available for business development activity on a daily basis.
Block that amount of time on your daily
Categorize your task list based on the type of activity (contexts, to use Getting Things Done language) and on the amount of time necessary for completion.
Work on one "chunk" of activity each day. If your tasks take less time than you have available, cross a couple of items off your list. If they take more time than you have available, define and complete one step toward the task.
You probably won't keep your scheduled block every single day, but if the blocks are on your calendar, you have a much better chance of making consistent progress than if you only have one block of time set aside per week.
Tracking
I've also written about parallels between business development and going to the gym. Last month, I shifted from a small local gym to my neighborhood YMCA, and I discovered a new parallel: tracking matters!
My new gym features Fitlinxx®, small screens that show the proper settings for each machine and connect to an online program that tracks participants' activity. Through Fitlinxx®, I can see historical data about what machines I used, how much weight I lifted, and how much cardio or other activity I performed, along with my standings among other FitLinxx® members. I not only stay motivated (right now, I'm #8 among women in my age range in my gym, and I'm just over 200 points behind the #5 position—hello, competition with myself to move up!) but I can also correlate how I performed with how I'm feeling, how I sleeping, and so on. All of this data is measurable and meaningful to me, and I can use it to help me improve.
So too with tracking your business development activity and results. When you track what you did and what happened as a result, you'll get data that will tell you what you can and should do to improve your results. (Do more of what works well and eliminate what doesn't work.) You may also find that tracking your activity is motivating in itself, and if you share it with an accountability partner (a peer or a coach) you'll likely find that you do more activity and work to do better.
Here's the bottom line on tracking: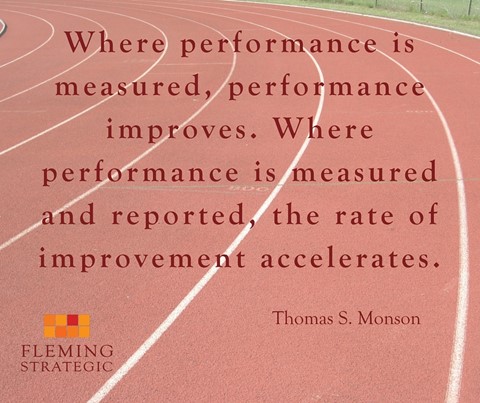 You can find more information on how to track your results in Chapter 3 of The Reluctant Rainmaker, and you may download a sample tracking sheet here.
How will you build consistency and tracking into your business development approach?
/wp-content/uploads/2021/01/Depositphotos_27574789_s-2019.jpg
666
1000
Julie Fleming
/wp-content/uploads/2015/09/3179291.png
Julie Fleming
2021-01-27 11:40:33
2021-01-27 11:40:33
Two keys to biz dev perseverance and success.