A friend recently ran her first marathon. She didn't know how it would feel to run 26 miles, and she was concerned about giving up partway through if she started to feel too tired. She even used a marker to write on the inside of her arm, "Your mind will give up before your body. Don't stop." She not only finished: she finished almost 15 minutes faster than she'd imagined she might.
Her tip? Don't let the mind run the show when it's tired, stressed, and worried. Make a commitment to action and keep going even when it gets hard.
That approach works for literal and metaphorical marathons. And that's another reason why it matters so much that you have a business development plan with clear interim and ultimate goals: you're less tempted to stop even when it gets hard if you can look to your interim goals to mark progress and focus on your ultimate goals to provide continues motivation. (Your ultimate goal refers not to originating and/or serving $X of business, but doing that so that you can make partner or pay cash for your kids' college tuition or stay at the Four Seasons on your next vacation.)
Here's the bottom line: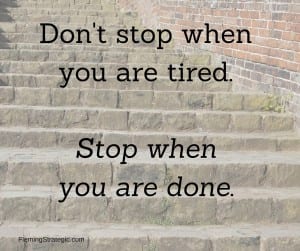 /wp-content/uploads/2016/01/Dont-stop-when-you-are-tired.Stop-when-you-are-done..jpg
788
940
strategic
/wp-content/uploads/2015/09/3179291.png
strategic
2016-01-27 08:00:44
2016-01-26 14:32:39
Biz dev is a marathon.