On one level, clients are looking for different things as they choose and work with attorneys. Some want a budget provider who will do the minimum necessary or collaborate closely with in-house counsel or businesspeople for DIY completion. Others want to hire the most prominent, best known, most expensive lawyers to appease the Board of Directors or to show another party that a matter is getting serious attention. Yet others look for a lawyer who has connections to useful people or businesses, and others prefer to work with lawyers who have implemented legal project management. You get the idea, and the variations are endless, especially once you consider clients who seek a combination of attributes.
But there's one word that sums up what every client is seeking: value. The budget-seekers measure value in terms of legal spend. Those seeking a lawyer with connections define value in part in terms of getting introductions that will expand their reach in some way. Those seeking the authority in the field measure value in terms of top-quality legal work, of course, but they also expect to benefit from the top lawyer's reputation and successful track record. These (and myriad other ways of determining value) should affect your marketing in at least two ways:
You must know what core value (other than quality legal work) you bring to the class of clients you serve and identify that in your marketing. This is one aspect of differentiating yourself from other practitioners in your field. The differentiating factors that matter are those that your clients value. If what sets you apart isn't something that your clients value, it's a distinction that won't have any substantial effect in growing your practice.
You must find ways to create value for your clients in the course of your representation. Think of this as an "add-on" value that's above and beyond the core value you identified to differentiate yourself from others. Examples might include sharing information about a trend you've identified, offering educational material to support the legal work you do (a pamphlet about ways to attract investors to a start-up or an annual email that invites clients to see whether they need to update their estate plan, for example), or a directory of providers in fields that would benefit your clients.
Take this non-legal example to illustrate the two kinds of value. When you think about car repairs, the most important thing is likely that the repairs be completed correctly, within a reasonable time, and for a reasonable price. Core values that might attract you to a particular garage would include focusing on particular brands of cars or using only factory-authorized parts. Repair shops would promote those points of differentiation because they may be deciding factors. Add-on value would include the availability of a comfortable waiting room with wi-fi, a quiet area, and good coffee. The chances are that you wouldn't decide on a repair shop solely based on that add-on value, but you would appreciate it, you might tell others about it, and you might find the repair process better because of those perks.
Your action item: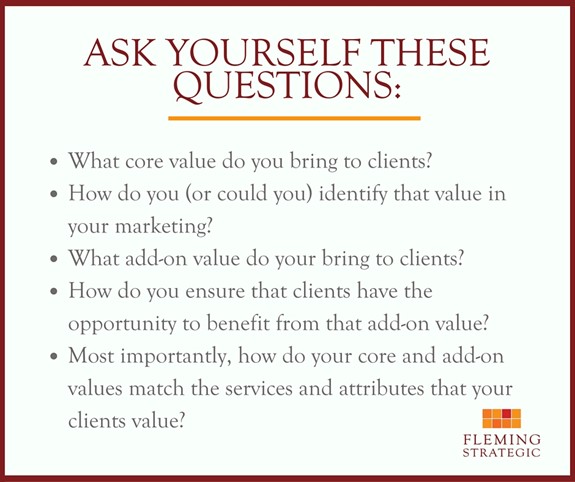 /wp-content/uploads/2021/01/Depositphotos_7365926_s-2019.jpg
667
1000
Julie Fleming
/wp-content/uploads/2015/09/3179291.png
Julie Fleming
2021-01-06 08:00:46
2021-01-03 15:33:29
What's every client's favorite word?