The practice of law is a business. We all know that, and yet many lawyers also prefer to focus on practicing law rather than focusing on managing the business.
Today's article comes from Brooke Lively, founder of Cathedral Capital, a team of CFOs and Profitability Strategists who help attorneys with fast-growing firms across the country turn their companies into profitable, thriving businesses so the owner can create the life they want. Brooke knows business, and her article will help you to understand the Key Numbers you need to know to support the business of your practice.
---
Knowing Your 6 Key Numbers®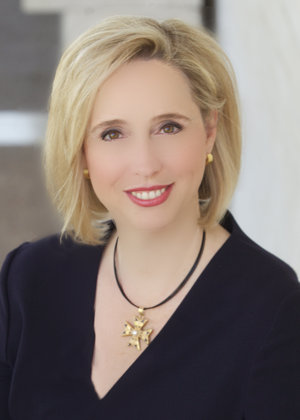 Imagine you are vacationing at a beautiful island resort with no phones or internet, and the only contact with the outside world is by way of a supply boat that comes once a week. What three pieces of information from your law firm do you need to know to decide if you can stay another week?" Wow.
Somebody asked me this question in a meeting one day. I was overwhelmed. Surely, I needed more than three pieces of information? Did I want information about my cash? My people? What about the sales process? And within those categories, what actual one piece of information would I need? And which ones would give me an accurate enough idea of what was going on to allow me to make a decision about staying in paradise for another week?
Over the next few years, my team and I started answering these questions for ourselves and for our clients. We found that there are six areas that have critically important information—the type of info you need when you are sitting at a fabulous island resort. And while all firms are different, we know there is one Key Number in each section that applies to your firm. The Key Number is almost always forward-looking—meaning it tells you what is going to happen. And when it isn't forward-looking, it tells you how to get back on track. Here's a quick synopsis of the areas, components, and what we consider to be the 6 Key Numbers®.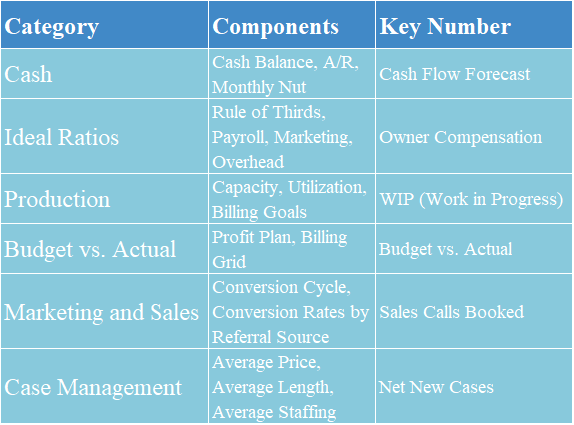 Cash
Cash is king, and no firm can survive without an ample amount. More than anything else, you need to know about the cash you have—and the cash you are about to need. Your Cash Flow Forecast (CFF) allows you to look forward, make decisions, and plan in a measured, reasoned, and proactive way, instead of reacting to a new crisis every week.
The question we are asked most often is, "How much should I be spending on … " The good news is that we have the answer. We use a ratio to determine that called the Rule of Thirds – 1/3 goes to payroll, 1/3 goes to overhead and 1/3 goes to profit. Law firm owners work much too hard to be the last ones to be paid. You are taking the risk and should be reaping the financial reward. For this reason, we always monitor the owner benefit—and look for opportunities to increase it.
Production
At the end of the day, if your law firm is not producing legal services, it will close. The trick is to learn how to incentivize your people through goal setting and understand what the capacity of the firm is and how much of that capacity you are using. WIP (Work in Progress) is the key number for production. Today's WIP is next month's revenue.
Budget vs. Actual
The Budget vs. Actual report is a standard report in all accounting software and serves two purposes. First, it means you have a budget. The Budget vs. Actual report lets you know if you are straying off course and gives you the ability to course correct.
Marketing and Sales
Understanding how clients get to you is vital. Once you start tracking your conversion cycle, it highlights places in marketing where your message is not in alignment with your firm. Ultimately, the Key Number we track is the number of sales calls booked. With that one number, we can predict how many new matters will be signed in the next month.
Case Management
I realize no case is "normal," but your matters do have certain similar characteristics. Your average case length and value paired with the Net New Cases key number gives us lots of insight. By knowing the number of Net New Cases (cases opened minus cases closed), we can predict how much work is in the firm, the pressure it will put on your team, and next month's revenue.
I get it, attorneys don't like numbers – that's why you went to law school, right?  However, a little work will net you enormous gains.  And it doesn't matter if you are sitting on an island or struggling to keep your firm going, the 6 Key Numbers® that you need to know are the same. These numbers help you gain control, chart a path, and achieve your goals.
For more information on the 6 Key Numbers® and how to implement them for your firm, read Brooke's new internationally bestselling book, From Panic to Profit: How 6 Key Numbers can make a 6-figure difference in your law firm.  Now available on Amazon.  You can reach Brooke through her website at CathCap.com or by email at Brooke@CathCap.com.
/wp-content/uploads/2020/07/Depositphotos_152745670_s-2019.jpg
667
999
Julie Fleming
/wp-content/uploads/2015/09/3179291.png
Julie Fleming
2020-07-15 08:01:16
2020-07-15 08:08:05
Panic to Profit