There's no secret about which activities are helpful for business development, right? Pick up any law practice management magazine, flip to one of the zillion practice-related websites and blogs, or read marketing suggestions for other professions, and you'll find all kinds of activities that work for landing new business.
The challenge can be finding which activities work for you. There's no one-size-fits-all template for business development. When it comes to finding your best process, you must start with self-understanding. What are your skills and opportunities for attaining credible visibility? How do you best interact with people?
It is possible to enhance and even change your natural tendencies—if, for example, there are good indications that speaking would be a productive activity but you're not a skilled speaker. However, you're unlikely to succeed unless you first believe you can succeed. Here's why: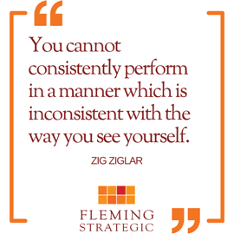 How do you see yourself when it comes to business development? To get a clear view, download and complete The Reluctant Rainmaker business development plan template. Part one is all about identifying attributes of yourself as well as your practice and your target clients, and part two helps you to use that information to build a plan that actually fits you.
Don't fall for a paint-by-numbers template that fits everyone and therefore fits no one. It takes work to design your unique strategy, but that's the only way to succeed.
---
P.S. Mark your calendar for the next installment of the webinar series, Mastering Your Time for Greatest Profit: Blending Year-End Billable Responsibilities and Holiday Relationship Development to Build Your 2021 Foundation.
The webinar will be held on Thursday, November 19 at 1 PM ET/noon CT/10 AM PT.
Click here to register.
/wp-content/uploads/2020/11/flemming115.jpg
664
1000
Julie Fleming
/wp-content/uploads/2015/09/3179291.png
Julie Fleming
2020-11-11 07:00:16
2020-11-11 09:36:41
One size never fits all.